Is your drivers license or state ID in the national REAL-ID database?
One of the major goals of the REAL-ID Act of 2005 was to create, and to pressure state governments to participate in, a national database of drivers' licenses and state-issued ID cards.
The REAL-ID Act requires that, "To meet the requirements of this section, a State shall … Provide electronic access to all other States to information contained in the motor vehicle database of the State."
In practice, the only available or affordable way for a state to comply with this part of the REAL-ID Act is to participate in the "State-to-State" (S2S) data sharing system operated by AAMVA and built by an AAMVA contractor, Clerus Solutions. AAMVA says that, "For those states … choosing to comply with REAL ID… the Department of Homeland Security has indicated that participation in S2S will be required for the state to be REAL ID compliant. This is because… the law and regulations governing REAL ID include requirements for state licensing agencies to connect their databases."
Despite its name, which might be taken as implying that it is merely a messaging system, S2S relies on a centralized national database, "SPEXS", which contains a record for each  drivers' license  or ID card issued by any participating state or territory.
The DHS has been certifying states and territories as "compliant" with the REAL-ID Act, without regard for whether they have complied with this provision of the Federal law.
But that begs the question of how many states have uploaded information about how many of their residents to the national database in order to comply with the REAL-ID Act.
Are records of drivers' licenses and ID cards issued by your state or territory already included in the national database? If not, when will they be?
AAMVA is a private corporation not subject to any Federal or state FOIA or public records law. A year ago, we asked the state of Alaska, under that state's public records law, for its correspondence with AAMVA and Clerus Solutions as the operators of the SPEXS national database. Alaska officials have ignored the deadlines in state law for producing these records, and have been stonewalling us for more than a year. The latest message we got from the Director of the Alaska DMV, before she hung up on us, was that it will be "many months" more before any of these records are disclosed.  In the meantime, we've filed an  additional request for SPEXS/S2S specifications and data access policies and records of the SPEXS/S2S governance committee, which has been meeting monthly since 2017 and of which Alaska's DMV Director is a member.
After we published our first analysis of the SPEXS specifications, AAMVA moved most of the SPEXS documentation to a members-only section of its website. But earlier this month, AAMVA posted a new list of which states' residents' data has been merged into the SPEXS national database, and when these bulk uploads were carried out: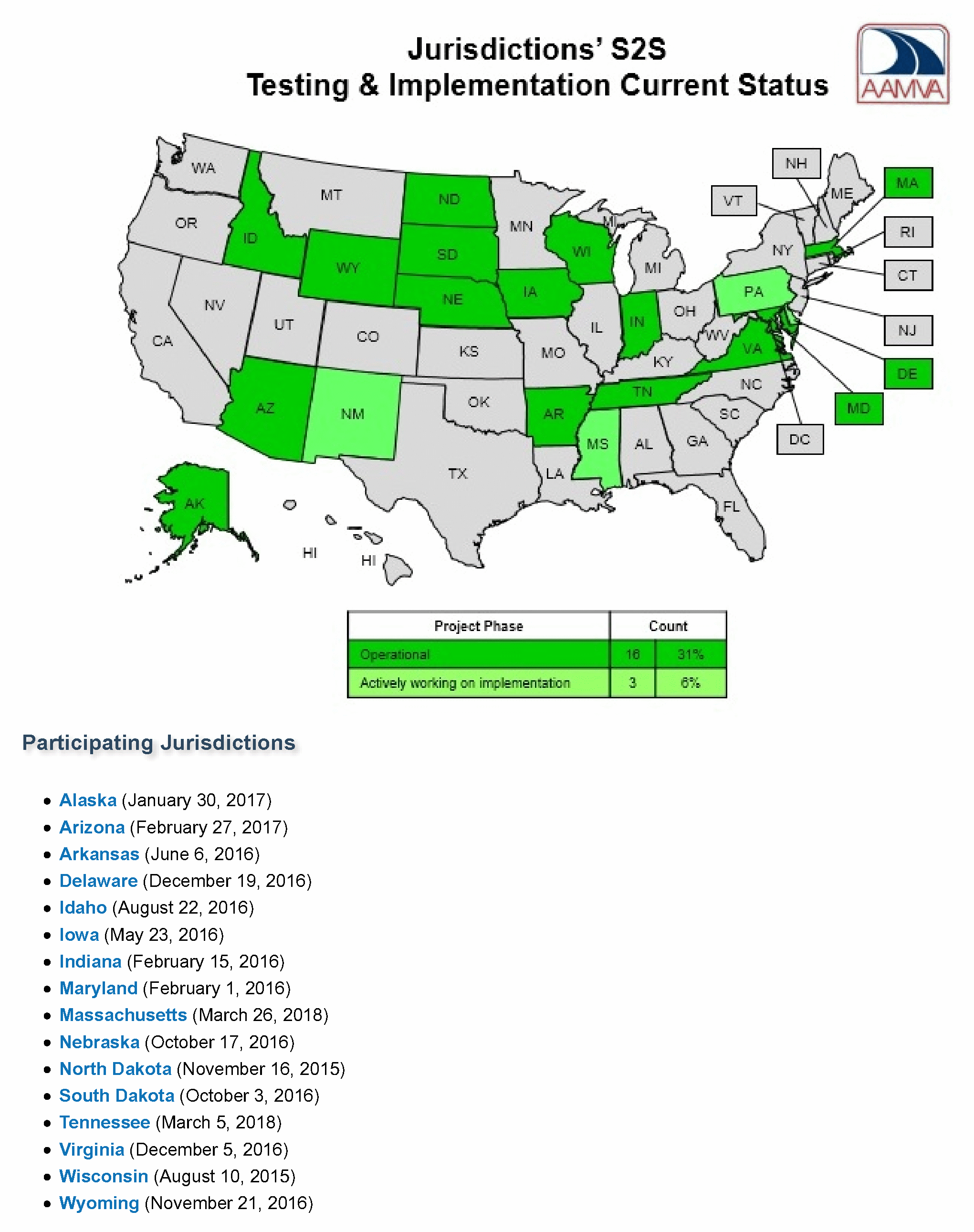 Only three states have joined S2S (i.e. added their drivers' license and ID data to the SPEXS database) in the 15 months since the bulk upload of data from Alaska over the long weekend of January 28-30, 2017. At that pace of one new state every five months, it would take until the end of the year 2034 to get drivers' license and ID data from the remaining 40 (of 56) states and territories merged into the national database.
AAMVA has painted a rosier picture for the national ID database, however, giving the following projections at a workshop for AAMVA members in March 2018 for when states plan to merge in their data. Pennsylvania hopes to be next, on May 21, 2018:
If these target dates are met, it would mean a sharp increase in the rate of growth of the national ID database, which currently holds records ("pointers") for about 50 million Americans' drivers' licenses or ID cards issued by 16 states: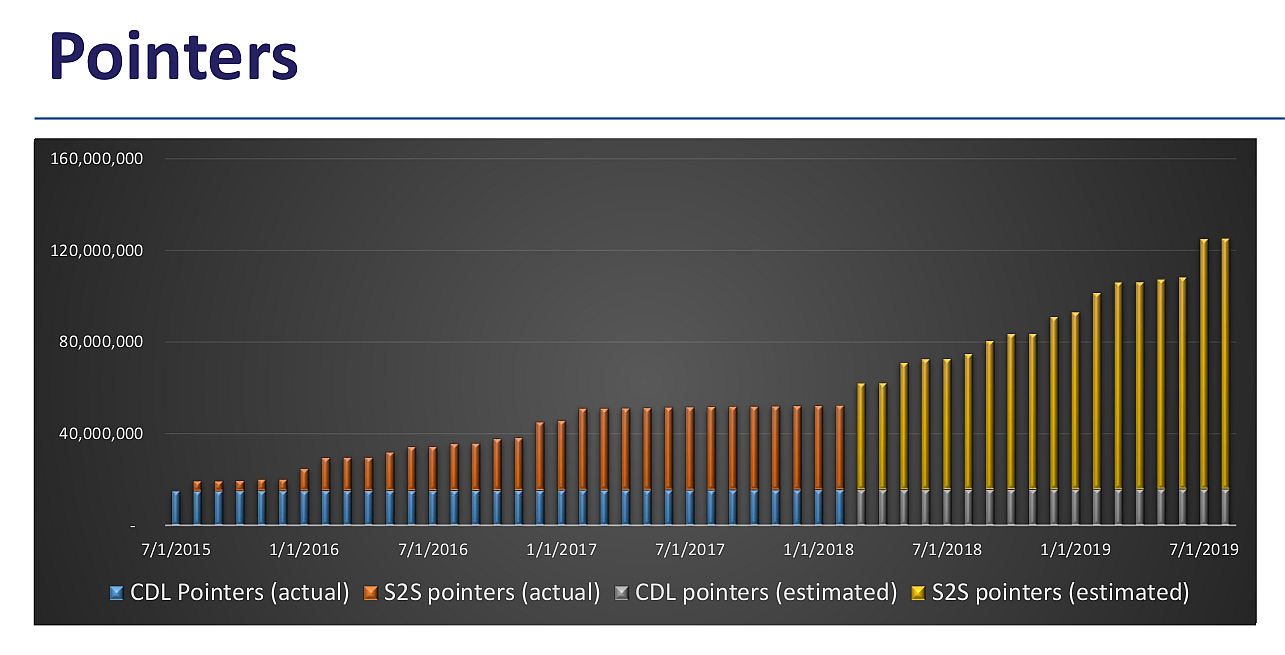 It's not clear whether these projections of more rapid expansion of the national ID database  reflect unfounded optimism or insider knowledge by AAMVA.
We encourage readers concerned about the addition of drivers' license and state ID data from the states listed above to ask your state authorities for information about their plans for S2S and SPEXS participation and bulk data uploads, using state public records laws. Please send us copies or links to any responses you obtain. (The National Immigration Law Center issued a similar appeal earlier this year to readers of its newsletter to investigate states' participation in S2S and SPEXS.)
Each time data from a new state has been uploaded and merged into the SPEXS national database, both that state's drivers' licensing database and SPEXS nationally have been taken offline for two or three days, typically over an extended weekend.
Even without trying to merge data into a live database, the batch upload process doesn't seem to have gotten any smoother over time. The most recent state to join S2S and upload its data to SPEXS was Massachusetts, over a 3-day weekend when all offices of the Mass. Registry of Motor Vehicles closed to the public last month. It appears to have been a fisaco, with people waiting in line for four to five hours to apply for or renew their drivers' licenses and state ID cards in the first days after Massachusetts joined S2S and SPEXS.  The wait was, "as long as we've ever seen it", according to a Registry employee quoted by  the Boston Globe — a remarkable admission in light of the notoriety of the Registry as the epitome of Massachusetts state government red tape and bureaucratic delay.
It's hard to tell whether slow processing of license and ID applications and renewals has been due to problems with S2S and/or SPEXS, the new software from Fast Enterprises being used by the Mass. RMV to process applications and connect to the national database, or Mass. residents' difficulty producing the "breeder documents" and other documents newly required for REAL-ID "compliant" licenses and IDs.
Last week the problems  spread nationwide. The Massachusetts RMV was unable to process drivers' license or ID applications or renewals for portions of two days. A spokesperson for the Registry attributed the problem to a "nationwide network outage from [a] federal vendor" which "impacted motor vehicle administrations in all 50 states." The "federal vendor" wasn't identified, and we don't know if this means that S2S and/or SPEXS went down.
Only some of the fields in state license and ID databases are included in the "pointer" records uploaded to SPEXS. But the data fields requires to be included in SPEXS "pointer" records could be expanded by AAMVA, through AAMVA's opaque internal decision making, at any time.
In the meantime, the REAL-ID Act requires that, to be "compliant", a state must make available electronically, to all other states, "at a minimum — (A) all data fields printed on drivers' licenses and identification cards issued by the State; and (B) motor vehicle drivers' histories, including motor vehicle violations, suspensions, and points on licenses."
Because photos are printed on drivers' licenses and ID cards, that means REAL-ID "compliant" states must make all their ID photos available electronically to all other states, even if photos aren't (yet) included in SPEXS pointer records.
Compliance with this provision of the REAL-ID Act is enabled by the "Digital Image Access" (DIA) component of AAMVA's software suite: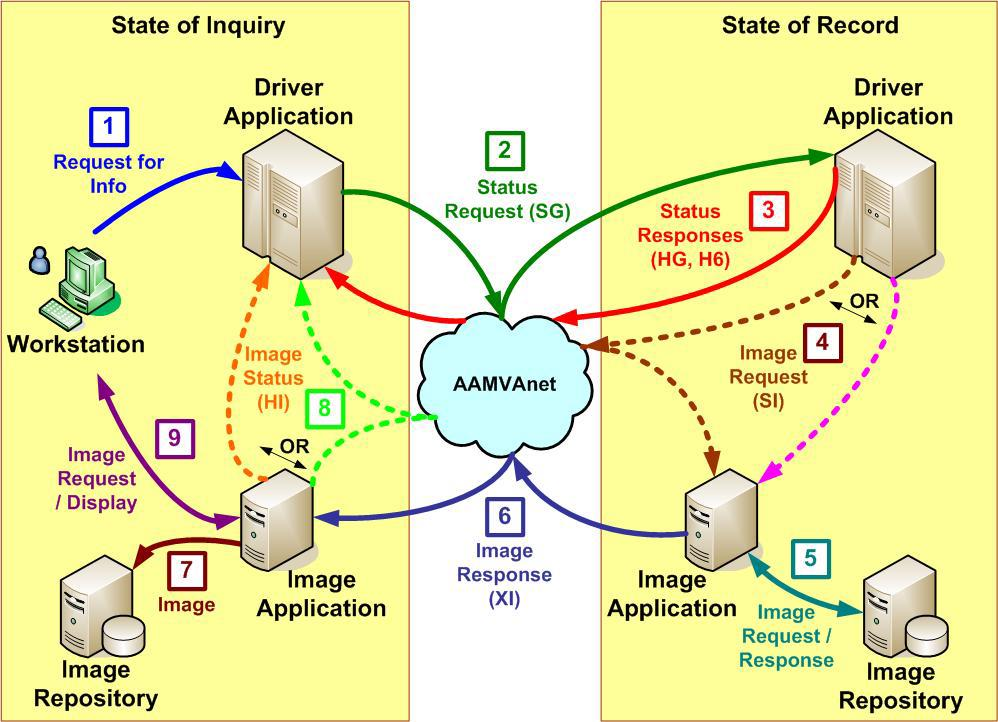 The system is designed to provide deniability as to the existence of a national database of license and ID photos: each state keeps a separate repository of facial images. But the system architecture is designed to allow these "separate" databases to function as a single nationally-accessible distributed database.
DIA is already designed to be compatible with automated facial recognition software.  The logical next step, of course, would be to add some sort of "hash" or "template" representing each photo to the corresponding SPEXS pointer record, to make it easier to carry out national photo matching and search.
DIA has been in operation since 2005, and 23 states are already making their license and ID photo databases nationally available through this network: