Federal civil rights lawsuit for false arrest at TSA checkpoint
U.S. Court of Appeals for the 10th Circuit
Argued March 17, 2015;  decided December 22, 2015
Phillip Mocek v. City of Albuquerque, Albuquerque Aviation Police Department, Marshall Katz (in his official capacity as Chief of Police of the Albuquerque Aviation Police Department), Jonathon Breedon [TSA], Gerald Romero [TSA], Anthony Schreiner [TSA], Robert F. Dilley [ABQ Aviation P.D.], Landra Wiggins [ABQ Aviation P.D.], Julio De La Pena [ABQ Aviation P.D.], and Does 1-25
U.S. Court of Appeals for the 10th Circuit, Case No. 14-2063; Notice of Appeal filed April 28, 2014
U.S. District Court for the District of New Mexico, Case No. 1:11-cv-1009-JB-KBM; Complaint filed November 14, 2011
Frequently Asked Questions (FAQ)
What was this case about?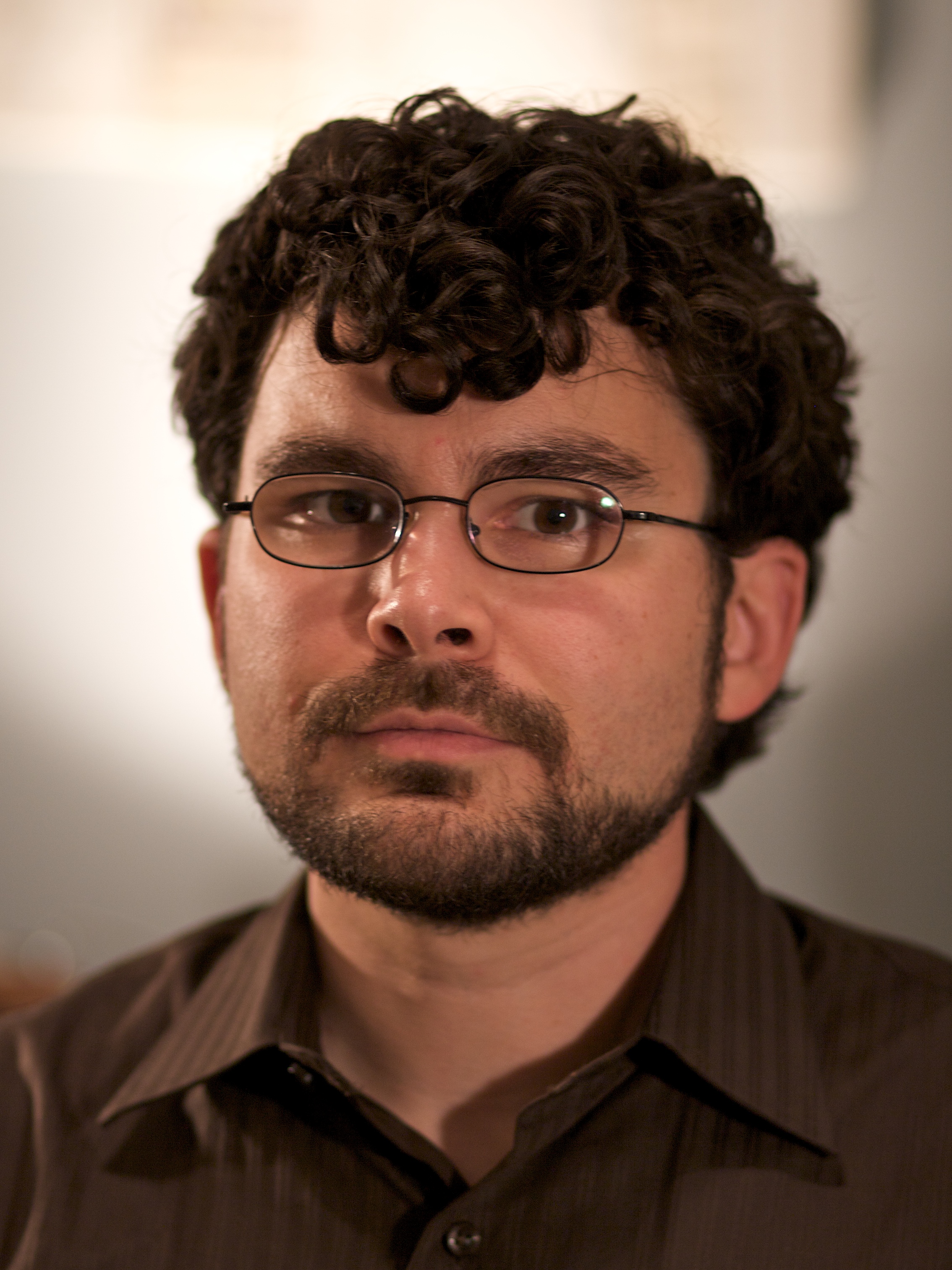 [Phil Mocek (click photo for hi-res)]
Phil Mocek (pronounced "MOE-seck" or "MOE-sick") was arrested by Albuquerque aviation police at a TSA checkpoint at the Albuquerque International Sunport on November 15, 2009. He had a valid ticket on Southwest Airlines ("You are now free to move about the country"), and was attempting to get to his flight. Like the "Freedom Riders" of the 1960s on interstate buses, Mr. Mocek sought to exercise his Federally and Constitutionally-guaranteed rights to travel and to film and record the actions of public officials in a public place, but was arrested by local police on false and trumped-up allegations of violations of state and local laws and ordinances.
On January 21, 2011, Mr. Mocek was acquitted by a jury on all counts. (More about the criminal case and acquittal.)
On April 20, 2011, Mr. Mocek filed a claim against the City of Albuquerque and the Albuquerque Aviation Police Department for violations of his civil rights including false arrest and interference with his First Amendment rights including his rights to photograph and record police and TSA checkpoint staff.
On November 14, 2011, Mr. Mocek initiated a Federal civil rights lawsuit with the filing of this complaint against the city, the airport police department, and the responsible police officers and TSA checkpoint staff.
What was the basis for Mr. Mocek's complaint?
Mr. Mocek brought this case under 42 U.S Code 1983, the Civil Rights Act of 1871, "Civil action for deprivation of rights":
Every person who, under color of any statute, ordinance, regulation, custom, or usage, of any State or Territory or the District of Columbia, subjects, or causes to be subjected, any citizen of the United States or other person within the jurisdiction thereof to the deprivation of any rights, privileges, or immunities secured by the Constitution and laws, shall be liable to the party injured in an action at law, suit in equity, or other proper proceeding for redress.
As the evidence at Mr. Mocek's criminal trial and Mr. Mocek's civil complaint make clear, he was wrongly arrested in retaliation for trying to exercise his right to fly without having or showing government-issued identity credentials, and for trying to document the procedures for flying without ID by making an audio and video recording of what happened to him at the TSA checkpoint.
TSA checkpoint staff testified at Mr. Mocek's criminal trial that they knew that they were not law enforcement officers and had no powers of arrest, and that they knew that passengers are entitled to fly without showing ID. The TSA has procedures for that, and it happens every day, they said.
(The Identity Project is still pursuing our Freedom of Information Act (FOIA) request and appeal — unanswered after more than 18 months — for information about those procedures and the TSA's "Certification of Identity" form.)
In response to Mr. Mocek's inquiry, the TSA had told him in advance, in writing, that its policies (with which its employees should have been familiar) permit photography and filming at checkpoints.
Knowing that they had no legal authority to interfere with Mr. Mocek's actions, the TSA called in the police. The police should also have known that they had no legal basis to detain or arrest Mr. Mocek or to stop him from exercising his rights to travel, to film, and to record. But the police falsely arrested Mr. Mocek, confiscated his camera, and tried to destroy the recordings that exonerated Mr. Mocek and incriminated the TSA staff and the police.
Thinking that they had destroyed the audio and video evidence, they then falsified their reports to accuse Mr. Mocek of things he had not done.  Fortunately, Mr. Mocek was able to recover the audio and video recordings deleted from his camera, and they were play to the jury which then acquitted Mr. Mocek.
What happened in this legal case?
The defendants — TSA staff and police — filed a motion to dismiss the complaint, supported by a memorandum of law and two of the reports filed by the police (but disbelieved by the jury that acquitted Mr. Mocek).
The TSA defendants argued that they weren't responsible for anything that was done to Mr. Mocek, even though they gave him (illegal) orders to stop filming, called the police, and made false accusations to the police that Mr. Mocek had violated TSA rules.
Both the TSA and the police defendants claimed that they have "qualified immunity" from lawsuits such as this, because it wasn't "clearly established" at the time of the incident that Mr. Mocek had a right to film or record at the TSA checkpoint (even though TSA policy explicitly recognized such a right).
Apparently the defendants believe that the First Amendment isn't "clearly established," and that TSA employees can't be expected to be familiar with their own agency's published policies.
The defendants also improperly claimed that their actions were justified by unsubstantiated accusations against Mr. Mocek (such as that he was "disruptive") that Mr. Mocek has not admitted to be true, and that were rejected by the criminal jury which acquitted Mr. Mocek.
In his memorandum (table of contents, table of authorities) in opposition to the defendant's motion to dismiss the complaint, Mr. Mocek pointed out that at this stage of the case the issue was whether he had alleged a violation of his rights, not whether those allegation had yet been proved, and that many of the defendants' allegations were already rejected by the jury which acquitted Mr. Mocek:
By attempting to characterize Mocek and his behavior as disruptive, the federal defendants in their motion are attempting to do precisely what they did in November 2009 — to falsely accuse Mocek of disorderly conduct. The criminal accusations of disorderly conduct were deemed false by a jury.

The federal defendants should not be permitted to justify their unlawful behavior … by creating a narrative of the events that is at odds with the allegations in the complaint and is based on statements and characterizations already found to be untrue.
Mr. Mocek said that the TSA employees share culpability for the violation of his rights:
While it is true that the local police defendants conducted the arrest and seizure, the federal [i.e. TSA] defendants must answer for the unlawful, unreasonable and unconstitutional order to cease recording events of public interest occurring in a public place. Their orders to cease engaging in perfectly lawful and peaceful activity that posed no threat to anyone — conduct with a First Amendment component — created a constitutional injury….The injury was compounded when, in order to put that order into effect, the federal defendants enlisted the police to give force to their unconstitutional demand.
Mr. Mocek also argued that the TSA employees should have been familiar with the published TSA policies permitting travel without ID and filming and recording at checkpoints. And both the TSA staff and the police should have been familiar with the First Amendment, which is "clearly established".
The defendants reiterated their arguments in a reply brief.  A few days after the completion of briefing on the defendants' motion for dismissal was completed, the case was assigned to a new judge, James O. Browning.
On January 14, 2013, Judge Browning issued a ruling dismissing Mr. Mocek's complaints against the Federal (TSA) defendants.
On February 1, 2013, the remaining Albuquerque defendants (the city, airport, and individual police officers) filed their own motion to dismiss the complaints against them. Following written briefing and oral argument, Judge Browning dismissed the complaints against the remaining defendants on February 28, 2014.
A notice of appeal of the District Court's decisions dismissing the complaints against the various defendants was been filed with the U.S. Court of Appeals for the 10th Circuit on April 28, 2014.  Mr. Mocek continued to be represented by the same legal team on appeal as in the District Court.
Appellate briefs were filed by Mr. Mocek (Appellent/Petitioner) and the original defendants (Appellees/Respondents):
Mr. Mocek's appeal was argued before a three-judge panel of the Circuit Court in Denver, CO, on March 17, 2015.
A decision upholding the District Court decision and the dismissal of the compliant on the grounds of "qualified immunity" of the police and TSA staff was issued by the Circuit Court panel on December 22, 2015.
What did the Court of Appeals decide?
The key findings of the Court of Appeals were as follows:
Mocek claims the district court should not have dismissed the complaint, contending he adequately pleaded that (1) it was clearly established that no probable cause existed to arrest him for concealing identity under New Mexico law, (2) it was clearly established that filming at the checkpoint was protected speech under the First Amendment, and (3) the officers and City maliciously abused the judicial process by filing a criminal complaint against him unsupported by probable cause….

We conclude that the individual defendants are entitled to qualified immunity because a reasonable officer could have believed Mocek violated New Mexico law by failing to show identification during an investigative stop…. [W]e doubt that there was probable cause to arrest Mocek merely for failing to show documentation proving his identity in this case. Nonetheless, the officers are entitled to qualified immunity because even assuming they misinterpreted New Mexico law, their mistake was reasonable….

[W]e doubt that § 30-22-3 criminalizes the mere failure to produce documentation during a stop for suspicion of disorderly conduct. It is entirely unclear what type of identification a suspect would need to show during such a stop. Nothing on the face of Mocek's complaint or in case law indicates that any particular document is necessary for the officers to perform their investigative duties, although it is obvious that a person intending to clear security screening and board a plane may need some form of identification.

Other states' "stop and identify" statutes also suggest that mere failure to produce documentation is not illegal, as most jurisdictions do not compel suspects to furnish documentation outside the context of traffic violations.

In any event, New Mexico law is not entirely clear on whether someone in Mocek's shoes might be required to answer basic questions about his identity, such as a request for his address. But Officer Dilley's only request was for documentation, and failing to show documentation, in isolation, during an investigative stop for disorderly conduct might not amount to concealing one's identity.

Nonetheless, Officer Dilley is entitled to qualified immunity. A reasonable mistake in interpreting a criminal statute, for purposes of determining whether there is probable cause to arrest, entitles an officer to qualified immunity.
What is the significance of this decision?
The fundamental lesson of this case is that even if you are acting entirely within your rights, and even if you are acquitted of any criminal charges, police and TSA staff can get off scot-free if, after the fact, the courts can imagine any excuse that might have existed for an arrest, including any "reasonably mistaken belief" that the police might have had that would have justified arresting you. It doesn't matter that the please never actually had, and never claimed to have, such a  belief, and arrested you for different reasons and on different charges.
Courts should not be allowed to make stuff up about things police might have believed, but didn't actually believe, to justify their actions. Allowing this sort of ex post facto and counter-factual judicial speculation to justify otherwise illegal actions and violations of civil and human rights by police and other government employees is unjust and unconstitutional. But that's the state of current Federal case law on "qualified immunity".
This justification-by-judicial-speculation is especially inappropriate in an appellate opinion based on review of a lower court decision on a motion for summary judgment, where there was never a trial, discovery, or any opportunity for a judge, much less a jury, to weigh the evidence and make factual determinations.
Notably, the court did not find that Mr. Mocek was required to produce any ID credentials or documents, even when he was detained for "investigation".
This Federal case was concerned only with the liability of local police and TSA staff for interfering with travelers' rights. You still have the right to fly without showing ID (although the TSA has indicated that it intends to impose an illegal ID requirement for airline passengers, at least for residents of certain states).
Will there be more appeals?
No. Mr. Mocek and his attorneys chose not to pursue any further appeals. The decision of the three-judge panel was unanimous, and there was no realistic possibility of any successful further appeal. The 10th Circuit Court of Appeals strongly disfavors requests for reconsideration or for review en banc. Drafts of opinions by 3-judge panels of the 10th Circuit Court of Appeals are circulated to all judges of the Circuit in advance. If there had been significant dissent by other judges of the Circuit, the Court could have moved sua sponte (on its own initiative) for en banc review.  The only other possible appeal would have been to the Supreme Court. A petition for review by the Supreme Court is expensive, and only a tiny fraction of those petitions are granted, generally in ciscumstances that don;t apply to this case.. There is little chance that the Supreme Court would have chosen to review this decision.
Why is this case important?
TSA checkpoint staff are called "officers", but they aren't actually law enforcement officers, and they have no power to arrest or detain anyone. At some airports, including SFO, the people wearing uniforms that say "TSA" all over them aren't even TSA or government employees, but "rent-a-cops" employed by a private contractor.
As a  result of their own lack of authority, TSA checkpoint staff depend on local police to provide the "muscle" to back up their demands.  The limits of the TSA's power are therefore determined by the willingness of local police at airports and other transportation facilities to enforce orders — whether legal or illegal — from civilian TSA employees and contractors.
Holding TSA checkpoint staff and contractors accountable when they call the cops on innocent travelers for exercising our rights, and holding local law enforcement officers and agencies responsible when they carry out unlawful detentions, arrests, or searches or trump up false charges at the behest of the TSA, is essential to securing our rights.
When their actions have been challenged by travelers, TSA staff and local police have consistently claimed that whatever rights they violated were not yet "clearly established," and thus that they enjoy "qualified immunity" from liability for their actions — even if those actions are later found to have been unconstitutional.  In Corbett v. TSA, for example, TSA staff have claimed that they have "qualified immunity" even when they detain travelers at checkpoints, despite not being law enforcement officers.
It's critical, in cases like this, to establish clear precedents that these actions violate travelers' rights, so that in the future those who violate these rights can't claim this sort of "immunity".
Through this case, Mr. Mocek also sought to recover more than $34,000 in legal expenses he incurred to defend himself against the false criminal charges.
What is the Identity Project?
The Identity Project (PapersPlease.org) provides advice, assistance, publicity, and legal support to those who find their rights infringed, or their legitimate activities curtailed, by demands for ID, and builds public awareness about the effects of ID requirements on fundamental rights. We are part of the First Amendment Project, a 501(c)(3) nonprofit organization based in Oakland, CA.
What is the role of the Identity Project in this case?
Mr. Mocek was represented in his Federal civil rights lawsuit by attorneys including James Wheaton, Lowell Chow, and William Simpich of the First Amendment Project, our parent organization, in addition to local counsel Mary Louise Boelcke in Albuquerque.
The Identity Project had no direct role in Mr. Mocek's criminal defense, in which he was ably represented by Albuquerque attorneys Nancy Hollander and Molly Schmidt-Nowara. We went to Albuquerque to observe and report on Mr. Mocek's criminal trial (since the trial was not recorded or transcribed by the court, our recordings are the only complete record of the trial), and to support Mr. Mocek's rights (1) to travel without showing ID credentials or answering questions from the TSA or police and (2) to photograph and record his interactions with TSA and police officers.
Contact us for more information or if you'd like to arrange for an interview or speaker from the Identity Project.
How can I get more information about this case?
How can I contact Mr. Mocek or find his own statements about this case?