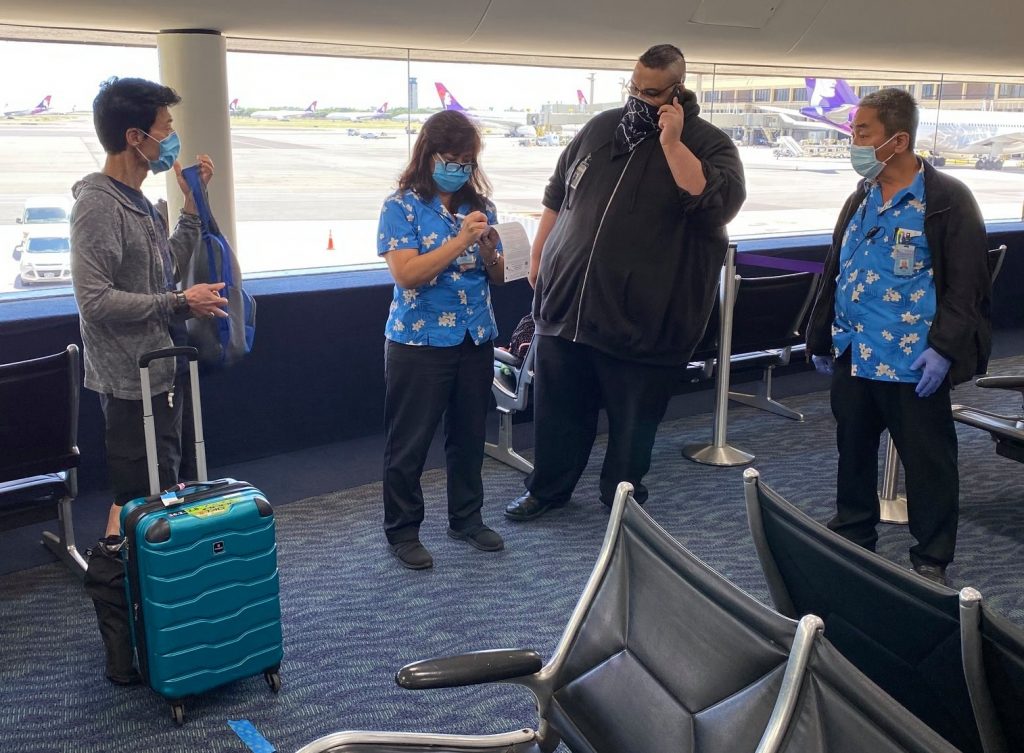 ["Aloha!" Passengers arriving at Honolulu International Airport on April 28th are interrogated and their cellphones are tested. Photo provided by the Hawaii Department of Transportation.]
We've been puzzling over this press release issued April 24th by the Department of Transportation of the State of Hawaii, entitled, "Improved verification process implemented for airline passenger," which begins as follows:
The Hawaii Department of Transportation (HDOT) has implemented improved measures to verify incoming passenger information before they leave the airport to help ensure people are abiding by the traveler quarantine order. The enhanced process is underway at the Daniel K. Inouye International Airport (HNL) and will begin statewide in the coming days.
We've read through the emergency proclamations by the Governor of Hawaii, and can't find anything in the quarantine orders purporting to give authority to state officials to "verify passenger information."
The press release threatens that anyone who arrives without  a working cellphone, charged, with service and coverage in the arrival area at the airport, will be arrested:
An airport representative will collect the two forms and begin verifying their information. First, they will call their mobile phone number to confirm it rings right in front of them. If it does not ring, the person may have listed inaccurate information and is asked to verify the number. If the person refuses to provide a phone number that can be answered on the spot, law enforcement is contacted and they are subject to citation and arrest.
We have no idea what the purported basis would be for arresting someone who isn't carrying a cellphone, whose phone doesn't have service in Hawaii (especially likely if they are arriving from another country), or whose cellphone battery has run down from watching  videos or playing games in airplane mode during a trans-oceanic flight.
But that's not all: