No cellphone? Not at address on your ID? Hawaii threatens arrests.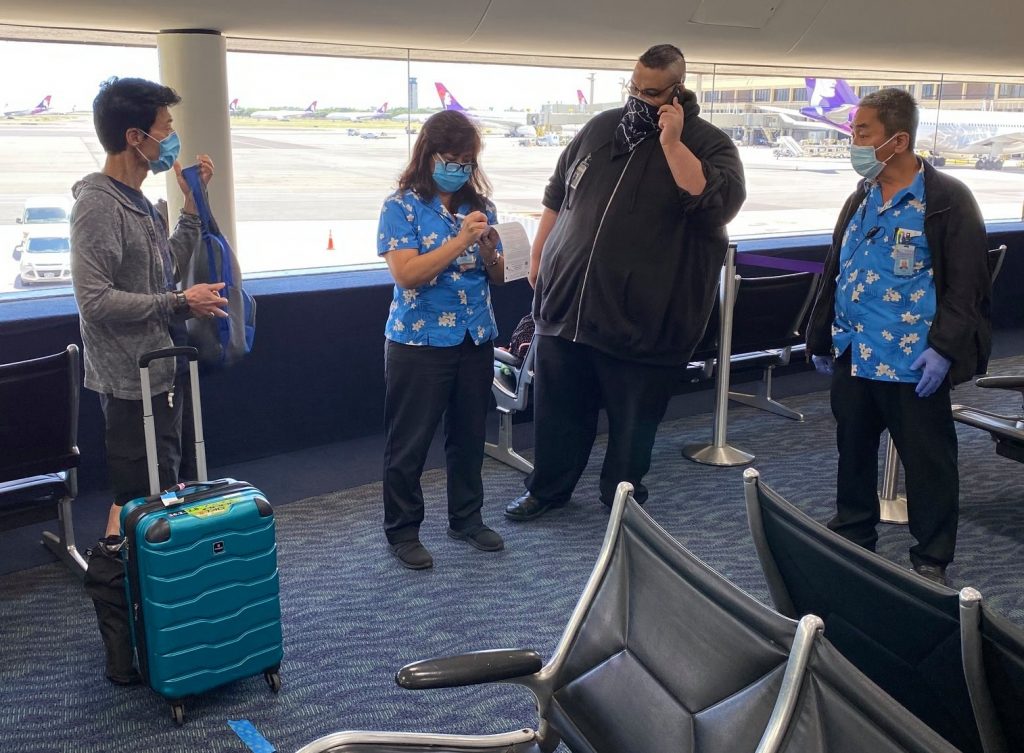 ["Aloha!" Passengers arriving at Honolulu International Airport on April 28th are interrogated and their cellphones are tested. Photo provided by the Hawaii Department of Transportation.]
We've been puzzling over this press release issued April 24th by the Department of Transportation of the State of Hawaii, entitled, "Improved verification process implemented for airline passenger," which begins as follows:
The Hawaii Department of Transportation (HDOT) has implemented improved measures to verify incoming passenger information before they leave the airport to help ensure people are abiding by the traveler quarantine order. The enhanced process is underway at the Daniel K. Inouye International Airport (HNL) and will begin statewide in the coming days.
We've read through the emergency proclamations by the Governor of Hawaii, and can't find anything in the quarantine orders purporting to give authority to state officials to "verify passenger information."
The press release threatens that anyone who arrives without  a working cellphone, charged, with service and coverage in the arrival area at the airport, will be arrested:
An airport representative will collect the two forms and begin verifying their information. First, they will call their mobile phone number to confirm it rings right in front of them. If it does not ring, the person may have listed inaccurate information and is asked to verify the number. If the person refuses to provide a phone number that can be answered on the spot, law enforcement is contacted and they are subject to citation and arrest.
We have no idea what the purported basis would be for arresting someone who isn't carrying a cellphone, whose phone doesn't have service in Hawaii (especially likely if they are arriving from another country), or whose cellphone battery has run down from watching  videos or playing games in airplane mode during a trans-oceanic flight.
But that's not all:
After the phone number is verified, an airport representative will then check the address listed for lodging. For returning Hawaii residents, the address should match their government issued ID. For visitors, the airport representative will call their hotel to confirm they have a reservation. Processing personnel have phone numbers for every hotel in the state.

If the visitor is not staying at a hotel, the address they list will be checked on the county's tax map key (TMK) to verify it is a legitimate residence. The number for the place of lodging will also be called to check if they are staying with someone at the address.

All information will also be provided to counties to check if the address is a vacation rental. This is a warning to all vacation rentals in the state to stop accepting visitor reservations.
We can find no basis for the order that,  "For returning Hawaii residents, the address should match their government issued ID."
What about Hawaii residents who don't have state ID, including children too young to drive and elders and people with disabilities who can't or don't choose to drive? These people may travel with US passports (which don't indicate an address or state of residence), or with no ID. We are aware of no law that requires state residents to have state ID cards, or subjects residents without state ID cards to arrest as soon as they set foot in the state.
What about those who are planning, for good reasons, to stay at an address other than their primary residence? Many people throughout the country who normally live alone are "sheltering in place" with extended family or others, for reasons including  providing at-home care for children, elders, or people with disabilities.
Then there is the requirement that, "The number for the place of lodging will also be called to check if they are staying with someone at the address." Having a telephone is not, so far as we know, a condition for having a  residential occupancy permit.
The point of the requirement for arriving visitors to "self-quarantine" is to make sure that they stay someplace where they can't infect other people, i.e. where they are alone. They shouldn't be "staying with someone", and there shouldn't be anyone already at a planned self-quarantine residence to answer the phone.
Hawaii residents returning from abroad should be discouraged from returning immediately to their homes, where they might infect family members or housemates — not required to do so. They should be encouraged to self-quarantine, alone, in some of the tens of thousands of vacant residential units normally occupied by tourists. It's a lot easier and safer to isolate yourself in a vacation rental unit with its own kitchen than in a hotel, or a home you share with family members or others.
If you or one of your friends has an apartment, condo, house, in-law, or cottage that's vacant because all the tourists have left, you should go there to self-quarantine rather than going home to the address shown as your residence on your state ID, and putting your family at risk of infection. If it belongs to yourself or a friend or family member, and you aren't paying rent, whether it is a legal rental unit is irrelevant.
So far as we can tell, the requirement — under threat of arrest — that returnees or visitors (including visitors who have come to Hawaii not for vacation but to provide essential services) immediately return to their homes to infect their families, or stay in closely shared lodging such as hotels, rather than isolating themselves in otherwise vacant dwellings, is not only entirely unsupported by law, but directly contrary to the professed health rationale for the quarantine order.
We assume that the purpose of the lawless threats is to discourage casual tourists from coming to the Hawaiian Islands. But more threats aren't necessary to achieve that goal. Arrivals  in Hawaii have already been reduced by more than 98%, from 28,500 a day at this time last year to less than 500 a day now. We assume that, given the 14-day self-quarantine requirement for all arrivals on the islands, most of these people are either Hawaii residents returning home, or visitors with a compelling need to come to the islands.
It's not mentioned in the press release, but there is also a web-based form that everyone arriving from outside the  state is supposedly "required" to complete before leaving the airport. It's not clear whether there are shared kiosks, terminals, or devices (which would, of course, be vehicles for disease transmission) that travelers can use to complete the form if they don't have their own working Internet access device with them on arrival, including if they have a simple cellphone without a Web browser.
According to the FAQ for the app:
You will be required to check in on this application daily to report your health condition. As part of this check-in, you will be required to verify your quarantine location, provide location data, and update your health status.
This daily "check in" requires giving the app permission to use GPS and/or other cellphone location data to report the phone's location to state authorities:
The system … records the user's location when they submit the self-diagnosis report form…. It obtains the user location when the page is loaded and submits that latitude and longitude with the form.
So far as we can tell, this is the first use in the USA of GPS or cellphone data for location tracking related to COVID-19. And this automated location tracking requirement is being imposed first on people who are not suspected of being infected.
We welcome further tips or updates on what's really going on at Hawaiian airports, the purported legal basis for these threats, or what Hawaii state officials are thinking.