We are pleased that legislation has been introduced in Congress to end "qualified immunity", one of the main judicial theories that has enabled Transportation Security Administration checkpoint staff to violate travelers' rights with de facto impunity.
H.R. 7085, introduced yesterday in the House of Representatives, is a simple and straightforward bill to end qualified immunity: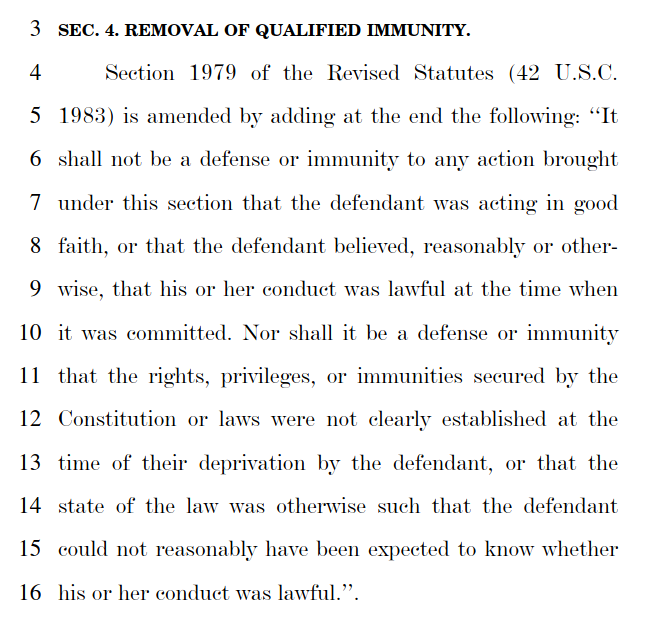 The lead sponsor of H.R. 7085, Rep. Justin Amash (Libertarian of Michigan) is also the sponsor of a pending bill, H.R. 4431, to prohibit the TSA or any other DHS component from preventing  a US citizen or permanent resident from boarding a commercial airline flight on the basis of a "no-fly list" or "watchlist" unless that individual has been convicted of a Fderal crime of terrorism. H.R. 7085 has 17 other initial co-sponors.
S. Res. 602, introduced earlier this week in the Senate, is a resolution expressing the "sense of the Senate" that:
Congress should amend section 1979 of the Revised Statutes (42 U.S.C. 1983) to eliminate the qualified immunity defense for law enforcement officers.
A resolution adopted by Congress calling on Congress to take a certain action is, of course, inherently half-hearted.If Congress believes that Congress should amend a law, Congress can and should amend that law, not merely pass a resolution telling itself what it ought to do. Nevertheless, S. Res. 602 is a step toward Senate acknowledgment of the need for action on this issue. Perhaps the introduction of H.R. 7085 in the House will prompt Senators to introduce a similar bill to give meaning to the sentiments expressed in S. Res. 602.
As the preamble to H.R. 7085 explains, "qualified immunity" is a rationale invented by Federal judges as their excuse for absolving law enforcement officers of liability when they have  violated individuals' rights. Qualified immunity is a judicially created doctrine that does not purport to be derived from anything in the text of the law.
"Qualified immunity" gives police and other government agents "immunity" (i.e. impunity) when they violate individuals' rights, if they believed in "good faith" that their actions were legal, unless the fact that their actions were illegal was "clearly established". Judges typically presume good faith on the part of police, and it's much harder to show evidence of bad faith or malign intent, as a state of mind, than to show evidence of illegal actions.