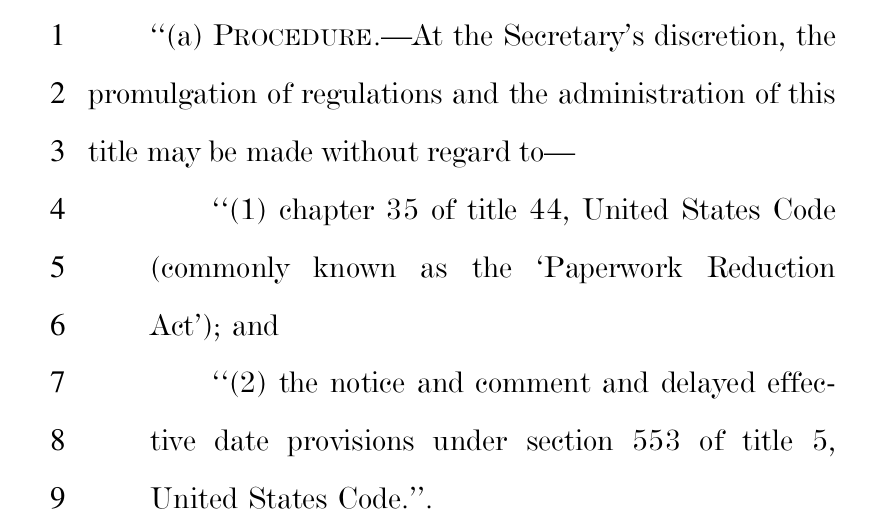 Rather than responding to our comments on the latest proposal by the Department of Homeland Security to require ID for airline travel, the DHS has quietly gone to Congress to try to get the law changed so that it doesn't have to answer us, and to preclude potential litigation to challenge an ID requirement or defend people who try to fly without ID.
A bill introduced earlier this month in the Senate, and already approved in committee, would exempt the implementation and administration of the REAL-ID Act from normal administrative requirements for due process in rulemaking and oversight and transparency in demands by Federal agencies for information.
Included in S. 4133, both as introduced and as amended and reported by the committee, are provisions that would allow the Secretary of Homeland Security, at his or her "discretion", to issue regulations and administer the REAL-ID Act without regard for the Paperwork Reduction Act (PRA) or the notice-and-comment requirements of the Administrative Procedure Act (APA).
As of now, no comparable bill has been introduced in the House. (Several bills to amend the REAL ID Act are pending in the House, but none of them contain PRA or APA exemptions.) It's unclear what effect these provisions would have if enacted. All Federal agencies are, of course, still subject to Constitutional requirements for due process. But these provisions of S. 4133  appear to be a direct response to the objections we raised in May 2020 to the latest DHS proposal to impose an ID requirement for airline travel without complying with the PRA or the APA.