Press releases issued today by US Customs and Border Protection (CBP) and Sen. Edward Markey suggest that CBP and its parent agency, the Department of Homeland Security (DHS), have cancelled or postponed, at least for now, their plans to require mug shots of all US citizens leaving, or returning to, the US.
But rather than admit that it has partially backed down or postponed some of its most offensive and intrusive plans in the face of public and Congressional outrage, CBP has sent reporters a statement alleging that our report breaking the story and others that followed contained "incorrect claims" about CBP plans: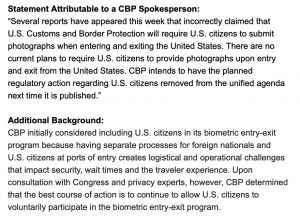 We stand by our story.

Until this Monday, when we called attention to the official DHS/CBP notice, the officially-approved and officially-stated intent of the DHS and CBP was to propose rules requiring U.S. citizens on international flights to be photographed.
If "there are no current plans" for mandating mug shots of US citizens, that's becuuse DHS and CBP plans changed this week in response to public and Congressional outrage and the likelihood that pursuing these plans now would derail DHS and CBP hopes for approval of its current facial recognition programs by airport authorities such as the Seattle Port Commission, which will consider the issue next Tuesday (and which had been misleadingly told by the CBP official responsible for the planned rulemaking that facial recognition would not be mandatory for US citizens).
The official DHS/CBP notice of planned rulemaking meant what it said. It was issued through a formal process of agency review. It wasn't  a typo, a mistake, or issued by a "rogue" employee.
We vigorously contest the CBP assertion that our story contained any "incorrect claim".
Such DHS and CBP allegations, in response to truthful reporting, only further discredit the DHS and CBP, and lower whatever little credibility they may have had.
Was this a trial balloon to find out whether the DHS had finally reached the limits of our willingness to be treated like criminals whenever we fly? And if so, has the DHS partially backed off, at least for now? Maybe.