Audio: State of New Mexico v. Phillip Mocek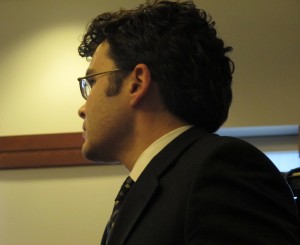 We've uploaded our complete audio recording and some of our photos of Phil Mocek's trial to the Internet Archive (Archive.org). Trials at this level in New Mexico are neither recorded nor transcribed by the court, so this is the most nearly complete record of the trial available.
The MP3 recordings can be streamed from here or downloaded directly from the links below:
Thursday, January 20, 2011 (Day 1):
Friday, January 21, 2011 (Day 2):
Dramatis Personae:
White noise heard on the recording was played in the courtroom during "sidebar" discussions when the jury was present, to keep these discussions from being heard by the jury.
Except during opening and closing arguments, when the recordings were made from the podium, these recordings were made from a single spot in the audience, behind the bar. We were permitted to record, with the court's permission, but we were not permitted to fix microphones or wires or tap into the public address system.  We apologize for any inadvertent gaps.
More:
(Click images for high-resolution versions. Please credit photos to PapersPlease.org.)