"Opting out" of TSA demands or questioning and photographing the TSA is not a crime!
We've reported before on the arrest of Phillip Mocek just over a year ago at a TSA checkpoint at the airport in Albuquerque, New Mexico, and his prosecution by local authorities on trumped-up criminal charges.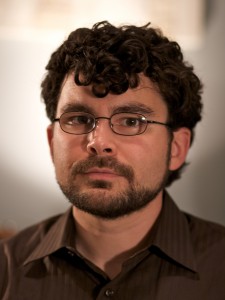 Now, after several postponements, Phil Mocek's trial is scheduled to begin with jury selection on Tuesday morning, December 7th, 2010, in Albuquerque.  The trial is expected to last 2-3 days. There's more information here.
(The trial has been postponed several times, and might be postponed again, but this date appears to be for real, and Mr. Mocek is making firm travel plans — by land, not by air — to be in Albuquerque.)
We encourage everyone who opposes the TSA's lawless assault on our liberties to support Mr. Mocek. Spread the word about this case, especially to people you know in New Mexico. Contribute to Mr. Mocek's legal defense. (He had to hire private lawyers to defend himself.)  Come to the trial in Albuquerque if you can. Pass out a leaflet.  Speak out and stand up to the TSA yourself.
This is the first TSA checkpoint resistance case to come to trial, and this trial comes during an unprecedented and spontaneous explosion of grassroots resistance to the TSA's claim to unlimited authority. The outcome of Mr. Mocek's trial will be critical to whether that resistance continues to snowball, or whether the TSA and its allies in authoritarianism can terrorize and intimidate law-abiding travelers into submission to their illegitimate authority.
There are no laws or published regulations defining what the TSA is allowed to do. In response to a Freedom of Information Act (FOIA) request from Mr. Mocek, the TSA has refused to release its secret procedures and directives for airport checkpoints.  And the DHS Privacy office has ordered the TSA not respond to our request for these documents without approval from the DHS "front office", which apparently has never been given.
In these circumstances, only the courts can define the limits of TSA authority to search, interrogate, x-ray, and grope innocent travelers who are not suspected of any crime. So far as we know, Mr. Mocek's case is the first time someone in the USA has been brought to trial on criminal charges for attempting to exercise their right to travel by air without showing ID or answering questions about themselves or their trip, or for photography or audio or video recording at a TSA checkpoint.