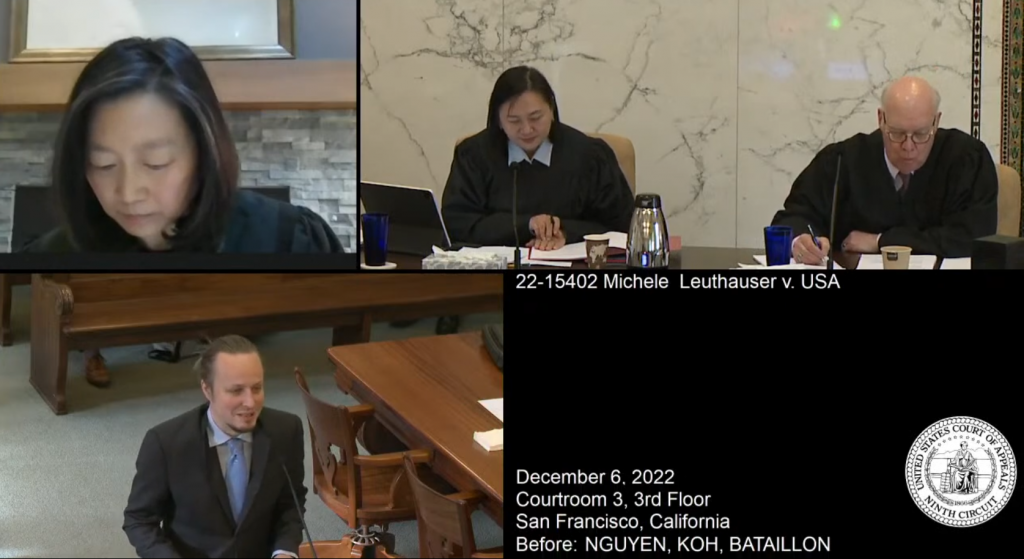 [Jonathan Corbett argues on behalf of Michele Leuthauser]
Two years ago, at least a dozen women on a Qatar Airways flight to Sydney were ordered off the plane at Doha Airport in Qatar and subjected to forced vaginal examinations.
Australia made diplomatic protests, as both the airline and the airport are controlled by the government of Qatar. The Qatari government issued a public apology and said that, "Those responsible for these violations and illegal actions have been referred to the Public Prosecution Office." Last month, just before the start of the World Cup soccer tournament in Qatar, some of the women filed a lawsuit in an Australian court  against the airport operator and the airline.
If you think that this couldn't happen in the USA, or that the victims would fare better with government authorities and in the courts in the USA than in Qatar, think again.
Today a panel of judges of the 9th Circuit Court of Appeals heard oral argument in San Francisco in a lawsuit (Michele Leuthauser v. USA) brought by a woman who complained that a Transportation Security Administration staff person pushed their finger into her vagina — i.e., raped her — in 2019 after they ordered her into a back room at the airport in Las Vegas for a "pat-down" after she went through a whole-body imaging  machine.
It's bad enough to require that, if anything "anomalous" is spotted on the images taken by  the "virtual strip-search" machine, you have to go through a hands-on strip search. It's another thing to turn that into a body cavity search involving groping and penetration.
Local police who were standing by refused to take a complaint from Ms. Leuthauser. Traumatized and unable to face TSA checkpoints again, she lost her job, which required frequent air travel. Eventually, after her claim against the US government for damages was administratively denied, she sued the TSA employees and the US government for damages.
Unlike the government of Qatar, however, the US government hasn't apologized, said that what happened was illegal (or would be illegal if the complaint is proven to be true), or referred the TSA checkpoint staff for investigation and possible prosecution.
The TSA hasn't even tried to dispute the truth and factual accuracy of the complaint.
Instead, the TSA has argued that, even if all of the allegations in Ms. Leuthauser's complaint are true, the TSA and its employees have absolute impunity. Regardless of what "torts", even rape, TSA checkpoint staff commit against travelers, the government claims that Federal courts have no jurisdiction to hear lawsuits or consider claims against them.
One might think that "sovereign immunity" would be a doctrine invoked by, say, the Qatari monarchy to dismiss lawsuits against the Emir. But in this case, it's being invoked by the US government to exempt the TSA and an accused TSA rapist from any legal accountability.