During  its online annual general meeting this week, the International Air Transport Association (IATA) rolled out a  new proposal for an app-based system of control over air travel that IATA is proposing for use by its member international airlines and by governments.
The scheme is being promoted as a response to the COVID-10 pandemic, but would institutionalize structures and practices with the potential for continuing and wider abuse.
IATA is calling its scheme the IATA Travel Pass. As described in these slides,  it would require would-be air travelers to enter both personally identifying information (most likely passport or other ID-card details) and records of tests and/or vaccinations into an IATA  smartphone app.  The data would  be processed by the algorithms of a "rules engine" to detemine whether to issue an "OK to travel" permission message. The output of this algorithmic decision would be available for use by both airlines and governments.
The intent of the IATA proposal is to create an infrastructure for sharing of data and travel permission decisions, at any point before or after the journey, with both airlines and governments, on the basis of an open-ended ruleset: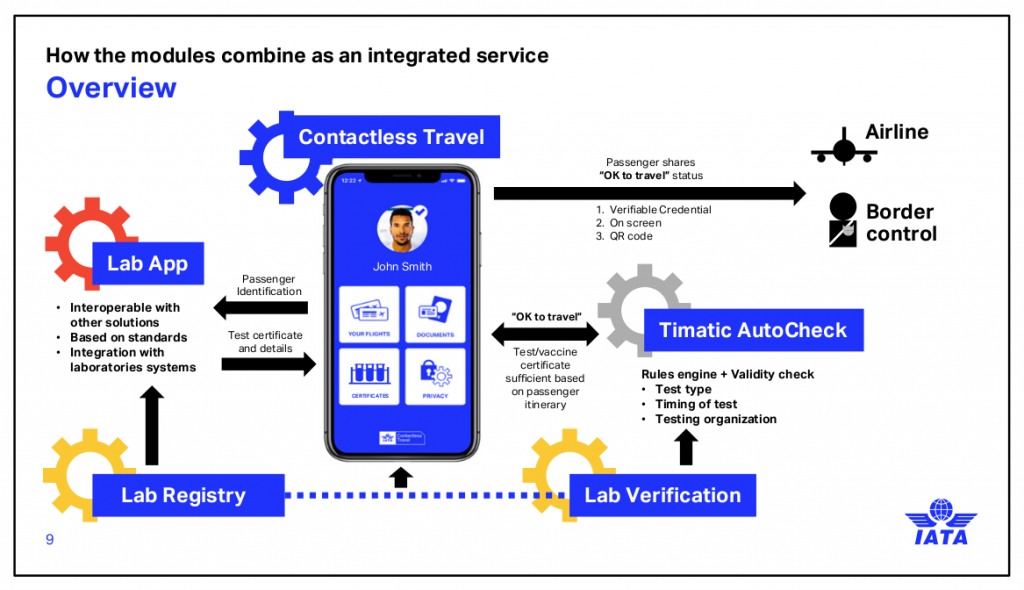 Of course IATA's new proposal has all the defects of any smartphone-based travel surveillance or control regime that we discussed back in April when Hawaii tried out such a scheme. IATA is silent on what is to happen to  a traveler who doesn't have a smartphone, charged-up and operable, with them when they try to travel.
And what about travelers without passport? No passport is currently required, even for international flights, within some free-movement zones such as within Mercosur, ECOWAS, or the European Union, or between the UK and Ireland.
But that's not the worst aspect of the IATA proposal. Unlike Hawaii's app-based location reporting system, the IATA app would go beyond surveillance to incorporate an algorithmic decision-making system for prior restraint of the right to travel.  Very disturbingly, there's no mention in the IATA proposal of who would control the algorithmic ruleset, leaving it wide open to mission  creep and abuse by governments worldwide.  There's no apparent way to restrict the nature of the rules or the purposes — blacklisting? discrimination? profiling? retaliation? — for which they could be used. Deployment of a general-purpose algorithmic travel control app for use worldwide would invite abuse.