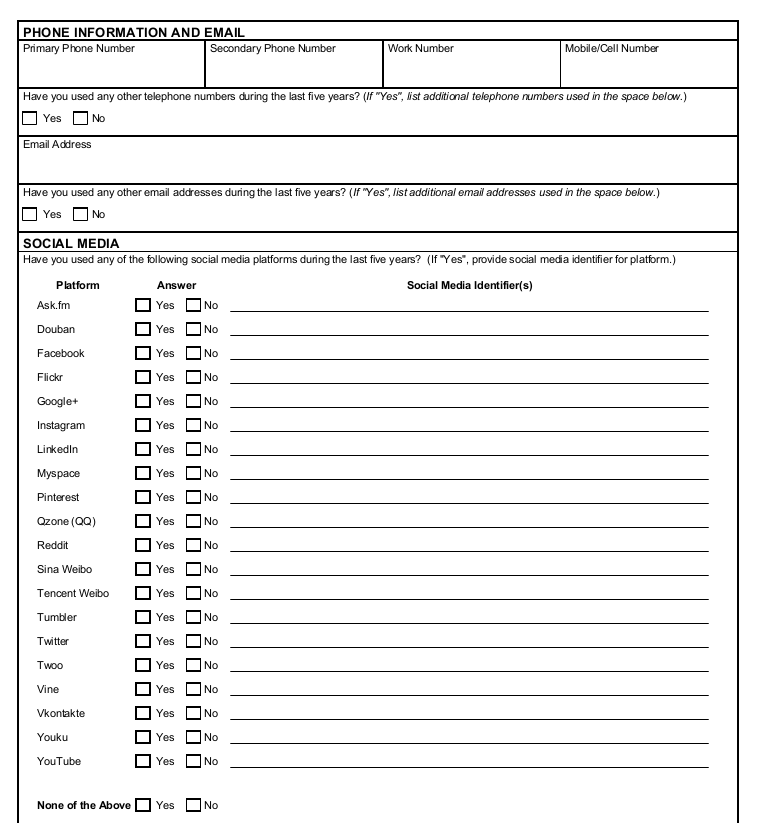 [Excerpt from proposed US visa application form as posted at Regulations.gov]
Today the US Department of State published proposals in the Federal Register to expand its ongoing surveillance of social media, e-mail, and travel by applicants for immigrant and nonimmigrant (tourism and other temporary visits) visas:
The Department is revising the collection to add several additional questions for…  visa applicants. One question lists multiple social media platforms and requires the applicant to provide any identifiers used by applicants for those platforms during the five years preceding the date of application. The platforms listed may be updated by the Department by adding or removing platforms….

Other questions seek five years of previously used telephone numbers, email addresses, and international travel.
Questions about social media identifiers were added to the applications for visas and the ESTA form (electronic visa for citizens of countries in the US Visa Waiver Program) in 2016. But until now, the State Department has claimed that answering these questions was "voluntary".
This expanded social media, telephone, and e-mail surveillance has all the problems we and other organizations have previously objected to, and more.
There has not previously been any requirement for would-be visitors or immigrants to the US to provide current or past telephone numbers, e-mail addresses, or a comprehensive list of which countries other than the US have been visited or when they have been visited.
The State Department will use these identifiers and share them with other Federal agencies such as DHS, including through the National Vetting Center, to target surveillance of foreign citizens, to mine its historical archives of dragnet surveillance, and to decide whether or not to allow foreigners to enter or remain in the US.  As part of "Visa Lifecyle Vetting" (formerly known as the "Extreme Vetting Initiative") they will also be used for "continuous vetting": ongoing suspicionless monitoring, profiling, and scoring by "pre-crime" algorithms purported to have robotic "pre-cognitive" abilities to predict future crimes based on what people say and who they associate with.