The Department of Homeland Security and the Transportation Security Administration have threatened to prevent citizens of many US states from being able to travel by air within the US, starting in January 2018, because their state governments won't dump all their driver's license and ID card information into a nationwide database. But these threats didn't actually cause states to follow the TSA's illegal orders. So rather than follow through on the threat, which would risk a legal challenge that would make it clear the threat is hollow, the DHS has again blinked. It just quietly deferred its deadline about when it claims it will enforce the REAL-ID Act against airline passengers.
Just over a week ago, when we testified before the California Department of Motor Vehicles about why the largest state in the union should not comply with the REAL-ID Act, and could not do so without violating its state constitution and its residents' rights, the DHS website included California among 21 states "under review" by the DHS for possible Federal interference with their residents' right to travel by air beginning as early as January 18, 2018.
Just days later, the DHS in its standardless discretion granted 15 of these 21 states, including California, another round of "extensions of time" to comply with the REAL-ID Act until October 20, 2018.
The states granted another round of arbitrary extensions until October 2018 included eight of the nine states singled out by signs in airports across the country as targeted for TSA harassment of their residents who travel by air beginning in January 2018: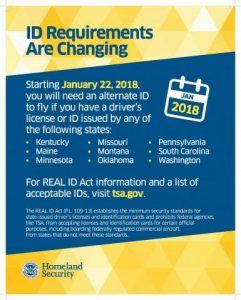 The dates picked by the DHS are as arbitrary as the DHS choices of which states to threaten. The DHS has repeatedly amended its REAL-ID Act regulations to postpone its threatened "deadlines", but neither January 18, 2018, nor October 20, 2018, are dates that appear anywhere in the law or the most recently revised regulations.