Amtrak lied to travel agents who questioned ID requirements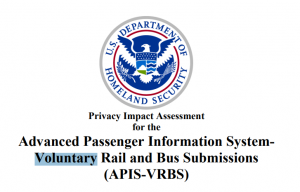 The encouraging disclosure in the latest installment of documents released by Amtrak in response to one of our Freedom Of Information Act (FOIA) requests is that some travel agents resisted Amtrak demands that they collaborate in surveillance, profiling, and control of train travelers by entering passport or ID numbers and details in each reservation for cross-border Amtrak travel.
According to an email message to Amtrak from a product manager at Worldspan (one of the major computerized reservation systems), "We have one subscriber [i.e. a travel agency that uses Worldspan] that has checked the Federal Register and is quoting 'chapter and verse' that it is not mandated … to provide the data":

Some travel agents pushed back repeatedly, read the official notices and instructions to travel agents about the rail API program carefully (and correctly), and made a travel agency "policy decision of non-provision" of ID data about their customers:

Kudos to the unnamed travel agencies that refused to help the government spy on their customers and called Amtrak on its lies that this was required.
The discouraging revelation in this latest PDF file of redacted email messages we received from Amtrak is that — even when travel agents pointed out that US Customs and Border Protection says that provision of ID information on rail travelers is "voluntary" — Amtrak continued to tell Worldspan (and, presumably, the other CRSs) to tell their travel agency subscribers that "these changes are mandated by the US Border Inspection Agencies" and that "CBP has … stated that we must collect Passenger Identification on Cross border trains. If we do not collect the requested data, the CBP will start to fine us [Amtrak] for the non-collection":


These claims by Amtrak to CRSs and travel agencies about a CBP mandate and threats to fine Amtrak were complete fictions.
Although Congress has considered extending ID requirements and associated ID-based travel controls from airlines to Amtrak and buses, it has not done so. CBP continues to describe the provision of ID data about international train and bus passengers as "voluntary".
What remains unclear is whether the Amtrak staff sending these email messages (names redacted by Amtrak's FOIA office to protect the guilty) had made us these falsehoods themselves, knew that they were relaying false information to CRSs and travel agencies, or had themselves been misled by Amtrak higher-ups or other Amtrak departments.
The project summary prepared by Amtrak's IT department (an internal document in which there would have been no need to repeat falsehoods created solely for external consumption), released as part of an earlier installment of Amtrak documents responsive to our FOIA request, said categorically that, "Information pertaining to passengers and crewmembers traveling across the U.S./Canadian border is required by the U.S. Department of Homeland Security (DHS)." (Complete archive of documents released by Amtrak to date; previous articles about Amtrak in our blog. As of Amtrak's most recent annual FOIA report, this was Amtrak's 8th-oldest pending FOIA request, with Amtrak's response still incomplete and trickling out in installments at intervals of months.)
We suspect that the Amtrak police or legal department lied to Amtrak's own IT managers about whether inhibiting ticketing of cross-border reservations without ID data was required by law or was a "voluntary" act of Amtrak collaboration in passenger surveillance. That suggests that these Amtrak police or other high-level managers feared that Amtrak staff might not be willing to implement these changes unless they were told (falsely) that they were required by law.
We are disgusted, of course, that Amtrak managers would lie to their colleagues about what the law doesn't and doesn't require them to do. But if Amtrak doesn't trust other Amtrak employees or contractors to collaborate in "voluntary" passenger surveillance, and feels the need to lie to them by claiming that this is "required," that's a positive sign that the workers who are being asked or ordered to build the infrastructure of mass surveillance might say "no" if they realized that they, and Amtrak, have a choice.
There are also parallels between Amtrak's lies about ID requirements for train travel and the lies being told by the DHS about nonexistent ID "requirements" for air travel.
We encourage all Amtrak employees to question illegal orders and to refuse to participate in "voluntary" surveillance and profiling of Amtrak passengers.