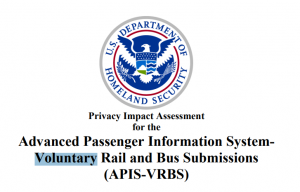 The encouraging disclosure in the latest installment of documents released by Amtrak in response to one of our Freedom Of Information Act (FOIA) requests is that some travel agents resisted Amtrak demands that they collaborate in surveillance, profiling, and control of train travelers by entering passport or ID numbers and details in each reservation for cross-border Amtrak travel.
According to an email message to Amtrak from a product manager at Worldspan (one of the major computerized reservation systems), "We have one subscriber [i.e. a travel agency that uses Worldspan] that has checked the Federal Register and is quoting 'chapter and verse' that it is not mandated … to provide the data":

Some travel agents pushed back repeatedly, read the official notices and instructions to travel agents about the rail API program carefully (and correctly), and made a travel agency "policy decision of non-provision" of ID data about their customers:

Kudos to the unnamed travel agencies that refused to help the government spy on their customers and called Amtrak on its lies that this was required.