The REAL-ID Act and entry to Federal facilities
Now that the DHS has postponed its self-imposed (and legally baseless) "deadline" for domestic air travelers to have ID that complies with the REAL-ID Act until at least 2020, the only threat left in the Federal arsenal to intimidate state governments into "compliance" with the REAL-ID Act any sooner than 2020 is the threat to bar residents of noncompliant states from access to some (but not most) Federal facilities, for some (but not most) purposes, in some (but not most) circumstances.
That was the subject of considerable discussion, and considerable confusion, at yesterday's second meeting of the Minnesota Legislative Working Group on REAL-ID Compliance, which is trying to figure out how seriously to take this threat (short answer: not very) and whether it calls for immediate action (short answer: no).
What is the DHS really threatening to do? And how much effect will that have, or has it already had?
Like a typical extortionist, the DHS keeps its threats vague and changeable. In a response made public today to a disability-rights complaint that is already the subject of litigation, DHS officials declared that it is "not objectively reasonable" to take statements on TSA.gov at face value. That's par for the course: The TSA has previosuly claimed that its own press statements are exempt from release in response to FOIA requests becuase it would "create public confusion" for the public to know the basis, if any, for those statements.
But what else can we do? In the absence of any laws or regulations requiring ID to fly or enter public buildings, and with the DHS having withheld most of its internal guidelines for building access from disclosure in response to our FOIA requests, all we have to go on are DHS rulemaking-by-press-release and reverse engineering of the secret DHS directives from anecdotal and observational evidence.  If the DHS doesn't want us to reverse-engineeer its secret rules from what we see happening on the ground, it can get Congress to enact those rules into public law, or publish them in the Federal Register as regulations.
The DHS claims on its official website that its REAL-ID Act "rules" (i.e. secret internal directives) for entry to Federal facilities went into effect on October 15, 2015. So if the sky were going to fall, we'd know about it already.  It hasn't. Reports of anyone being denied entry to a Federal facility have been rare.
As recently as November 22, 2015 — more than a month after the penultimate phase of REAL-ID Act enforcement had supposedly begun — the DHS public FAQ about the REAL-ID Act said that requirements for ID from compliant states would depend on the "Facility Security Level" (FSL) assigned to each facility: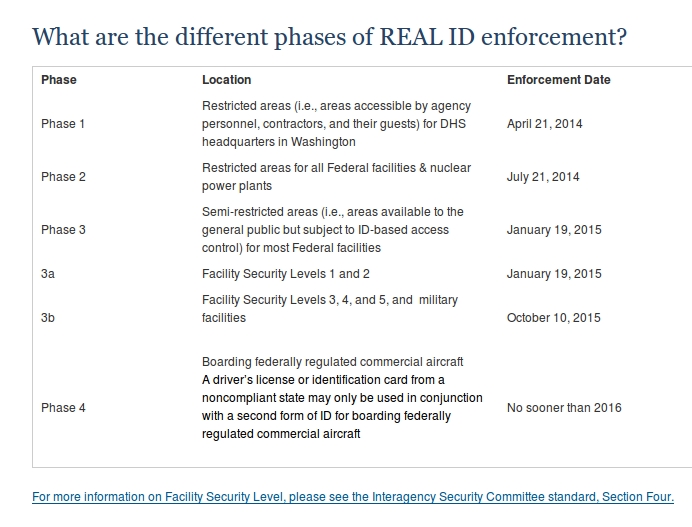 All mention of these enforcement phases and this scheme of "Facility Security Levels" disappeared completely from this Web page sometime between November 22, 2015, and today. The DHS has since blocked the Internet Archive from its website, to avoid being questioned about unexplained changes like this.
Presumably, the DHS rescinded and tried to efface the memory of this security level sham because so few Federal facilities had actually been assigned an FSL that would have triggered REAL-ID Act compliance demands. When we filed FOIA requests for Federal facilities in the San Francisco Bay Area, we found that none of the the most conspicuous potential Federal terrorist targets and critical infrastructure facilities in our region had been assigned any FSL at all.
FSL assignments were supposed to be the "security assessments" justifying ID demands. The ability of the DHS to wipe out this whole scheme by fiat, overnight, merely by revising a website and without any rulemaking or public explanation, exemplifies the fact that all of the supposed "deadlines" for REAL-ID Act compliance are equally arbitrary, discretionary, and changeable at the whim of the DHS or its master or mistress in the White House.
(The latest postponement of the "deadline" for compliant ID to fly to October 1, 2020 is particularly incredible. Whatever administration is in power on that date is not going to start barring residents of any state from flying, a month before the 2020 Presidential and Congressional elections. To do so would be electoral suicide. If the REAL-ID Act hasn't been repealed or overtuened by the courts by then, you can count on the DHS postponing that "deadline" again.)
The DHS says that people who present ID from a state that isn't certified by the DHS as making sufficient progress toward compliance (no state is actually compliant yet with the database requirements of the REAL-ID Act) will be denied entry to a Federal facility only if ALL of the following are true:
ID is normally required for entry. (It isn't for Post Offices or most Social Security offices, VA hospitals and clinics, "open" military facilities, etc.)
The person seeking entry doesn't have any other Federally-issued ID, such as a Federal employee ID, military ID, veterans ID, etc. (Almost all Federal employees have Federally-issued employee ID cards they use for access to their workplaces, if ID is required.)
The person is seeking unescorted access. (So far as we can tell, there is no Federal facility, even the White House, where people without ID aren't allowed entry as visitors if they are escorted by an employee or other authorized person.)
The person is NOT seeking access for any of the following purposes:

Voting or registering to vote
Applying for or receiving Federal benefits
Being licensed by a state to drive
Accessing health or life preserving services (including hospitals and health clinics), law enforcement, or constitutionally protected activities (including a defendant's access to court proceedings)
Participating in law enforcement proceedings or investigations
These exemptions clearly reflect the DHS realization that the REAL-ID Act does not, in itself, create any requirement for anyone to show ID, anywhere, ever, for any purpose. Neither the DHS nor other Federal agency has any legal authority to condition Federal benefits or rights, such as the right to petition for redress of grievances, on showing ID.  The DHS can't Constitutionally bar the courthouse doors to citizens on the basis of the REAL-ID Act or any other law.
What does this mean in practice? Very few people, facilities, and purposes are actually affected. ID isn't required of anyone (and shouldn't be) to enter many, perhaps most, Federal facilities. Almost all of the reasons civilians who aren't Federal employees would want or need to enter other Federal facilities are among those the DHS has, of legal necessity, exempted from its threat to demand compliant ID. Occasional visitors can still be admitted if they are escorted. Providing an escort is, in most cases, more of a nuisance for the Federal agency being visited than for the visitor.
Of course, if  the military or other Federal agencies want to outsource work to civilian contractors, there's nothing to stop those Federal agencies from issuing contractor ID badges the same way they issue employee IDs. Agencies that bar access to their own contractors would only be shooting themselves in the foot.
Minnesota lawmakers expressed concern yesterday  about access to VA hospitals. But workers at VA hospitals have Federally-issued employee IDs. All VA patients have Federally-issued veteran ID cards. And people visiting patients in VA hospitals — even visiting intensive-care units — aren't required to show any ID.
Many long-haul truckers who make pickups or deliveries at Federal facilities also make pickups or deliveries at ports, and/or sometimes carry hazardous loads, and thus have already been required to have a TSA-issued TWIC card or Hazardous Materials Endorsement despite the problems with those Federal ID credentials. Truckers without either of these Federal IDs can still enter Federal facilitities with an escort.
The only substantial group of potentially affected people are non-employee civilian contractors who don't have any Federally-issued ID but who work at certain military bases, national laboratories, and other facilities where they would be allowed entry unescorted with compliant ID, but only with an escort otherwise.
That's what the Chicago Tribune found when they surveyed Federal facilities in Northern Illinois this week:
The potential impact of those changes does not appear to be far-reaching….

The Northern District federal court, which includes the Dirksen U.S. Courthouse downtown and a courthouse in Rockford, will continue accepting Illinois driver's licenses and IDs. Courts were exempted from the new requirement to protect public access to court proceedings, according to a court spokeswoman.

At Naval Station Great Lakes near North Chicago, entrance practices will remain the same, said spokesman John Sheppard. All visitors must be vetted in advance by the military or hosted by a specific member of the military….

If a federal facility does not require an ID for entrance now, that will not change, said Amanda DeGroff, a spokeswoman for the Department of Homeland Security. The Kluczynski and Metcalfe federal buildings in the Loop, for instance, do not require IDs for entrance….

The Great Lakes office of the General Services Administration, the administrator for federal buildings in this area, did not respond to requests for information on revised ID requirements at local buildings.
The highest-security Federal facility in Northern Illinois, and one of the largest, is probably the Rock Island Arsenal.  Even there, according to a statement from the Arsenal, anyone otherwise eligible is allowed to enter with an escort: "[T]hose who are not in possession of an approved … document … may still enter Rock Island Arsenal, but only under escort of authorized personnel," despite a contrary statement on the Arsenal website.
Has there been a problem with people being denied entry? According to the local newspaper of record, the Quad Cities Times, "T.J. Suarez, the chief of security [for the Arsenal], said he did not know how many people would be affected, but added, 'I don't think it's going to be as significant as folks anticipate it to be.'"
So far as access to military bases like this is concerned, the REAL-ID Act is only relevant to US citizens, all of whom are (or should be) eligible for a US passport and/or a US passport card: "Foreign Nationals are not allowed access, unless visiting for Official Business," regardless of whether they are US residents or have driver's licenses or ID from state deemed "compliant" with the REAL-ID Act.   For a US citizen who doesn't already have a passport, a passport card costs $85 and is valid for 10 years (then $30 to renew) , in contrast to a driver's license that is typically valid for half that long.  Despite serious problems with passport issuance, it's often easier to obtain a passport or passport card than to obtain a driver's license or state ID in a state that complies with all the document requirements of the REAL-ID Act.
"Enforcement" of the REAL-ID Act for access to Federal facilities is already in effect. The sky hasn't fallen. The sky isn't falling. The sky isn't going to fall.