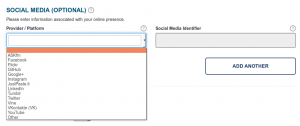 Last December, over our formal objections filed with the Department of Homeland Security, US Customs and Border Protection began asking foreign visitors to the US to fill out the online form, shown above, requesting their user names on social media platforms form Facebook to GitHub.
As of then, and as of now, answering this question is still "optional", although there's no guarantee that those who decline to respond won't be denied entry.
However, new Secretary of Homeland Security Kelly has begun speaking publicly about wanting to require foreign visitors to provide CBP not just with their user names but also their passwords for social media and email accounts.
In response, we've joined several dozen other organizations in a Fly, Don't Spy! campaign to oppose "any proposal to require visa applicants, refugees, or other foreign visitors to provide passwords for online accounts, including social media, in order to enter the United States."
Please add your name to the petition and the coalition mailing list for updates and actions at FlyDontSpy.com, and help spread the word.
More background: