Hearing May 14 in Portland for "Naked American Hero" John Brennan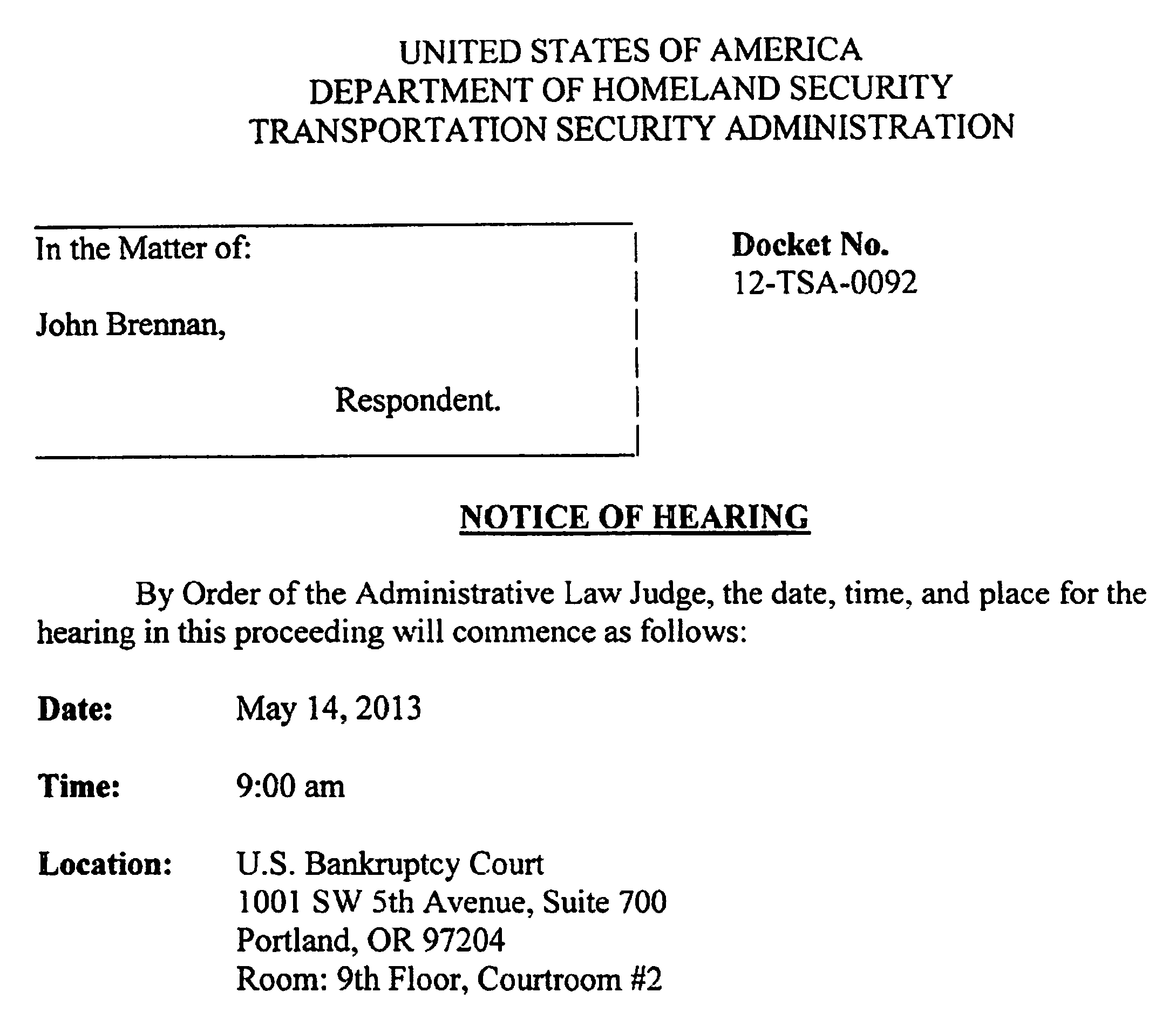 Does nudity "interfere" with TSA "screening"?
That will be the issue at a hearing before TSA "Administrative Law Judge" George J. Jordan on Tuesday, May 14, 2013 in Portland, OR, in the matter of "Naked American Hero" John Brennan, who exercised his First Amendment right to express his political opinion by taking off all his clothes [video from TSA/airport security camera] while he was being subjected to "secondary" searching at a TSA checkpoint at the Portland airport on April 17, 2012.
The TSA calls its checkpoint staff and contractors "Transportation Screening Officers", but they aren't law enforcement officers and have no police powers.  So when people do things they don't like, their normal response — if bullying doesn't work —  is to call the local police. That's what they did with Mr. Brennan in Portland.  The local police arrested him and charged him with "indecent" exposure. (There is no law against public nudity per se in Portland.)
But an Oregon judge acquitted Mr. Brennan of these criminal charges, finding that Mr. Brennan's conduct wasn't "indecent" and was political speech protected by the Oregon constitution.
That should have been the end of the matter. But the TSA was, apparently, afraid that if Mr. Brennan wasn't somehow punished, too many other Oregonians might start following his example.
So even though a judge had already found that Mr. Brennan's nakedness at the TSA checkpoint was not a crime, the TSA is seeking to assess a $1,000 fine against Mr. Brennan for "interfering with screening" in violation of TSA regulations (49 CFR 1540.109).
It isn't clear to Mr. Brennan or his attorney Robert Callahan, even after depositions of Mr. Brennan and the TSA staff, exactly how the TSA thinks Mr. Brennan's actions "interfered" with anything which constituted "screening". Any "interference" with normal checkpoint operations appears from the record to have been caused by the TSA personnel, who chose to shut done the screening line rather than screen Mr. Brennan while he was naked. (Yes, we can all see the irony of the TSA insisting on their entitlement as a standard part of "screening" to press against travelers' genitals until they feel "resistance", while declining to look at someone's naked body to see that they aren't carrying any weapons or explosives.)
The TSA has repeatedly threatened to assess civil penalties for "interference with screening" against people who protest at TSA checkpoints, but this is the first time we are aware of that it has followed through on such a threat.
Because this is considered a "civil" penalty, rather than a criminal proceeding, the TSA isn't bound by the criminal acquittal, and Mr. Brennan isn't entitled to a jury trial.  Once the TSA proposes to assess a civil penalty, your only options are to pay whatever fine the TSA has proposed, or to request a "formal hearing" before an "Administrative Law Judge" (ALJ) employed by DHS.  Most agencies employ their own ALJs, but the TSA refers most of its matters requiring review by an ALJ, including hearings civil penalties and FOIA appeals, to ALJs employed by another DHS component, the U.S. Coast Guard.  Mr. Brennan's case will be heard by George J. Jordan, an ALJ employed by the Coast Guard regional ALJ office in Seattle.
A formal hearing before an ALJ is a fairly high-level kangaroo court, as such things go, with lawyers and the right to call witnesses (Mr. Brennan and the TSA checkpoint staff are expected to testify), but it's still not a real trial  with all the rights that would entail.
Other courts have ruled that TSA checkpoint personnel ought to know that the First Amendment applies inside TSA checkpoints.  And a rule that requires travelers to "submit to screening", without providing any further defintion of either "submission" or "screening", ought to be considered void for vagueness.
But as a result of the same jurisdiction-stripping law that has prevented U.S. District Courts from hearing most challenges to TSA checkpoint practices, the ALJ has no authority to consider the Constitutionality of TSA regulations or orders. That can only be raised in a subsequent petition for review by a Circuit Court of Appeals of the TSA's decision, based on the administrative record from the TSA hearing.
The formal hearing on the TSA's proposed $1,000 "civil penalty" against John Brennan is now scheduled to begin at 9 a.m. Tuesday, May 14, 2013, at the U.S. Bankruptcy Court, 1001 SW 5th Ave., 9th Floor, Courtroom #2, Portland, OR.  (This is not a bankruptcy court case, but the TSA is using their courtroom for this hearing.) The hearing is expected to conclude sometime the same day.
The hearing is open to the public, and we look forward to seeing you there.  We haven't yet found out if photography and/or audio recording will be permitted in the hearing room. We'll post more information about the hearing, and any updates or schedule changes, as soon as we learn of them.