CBP databases for travel surveillance and profiling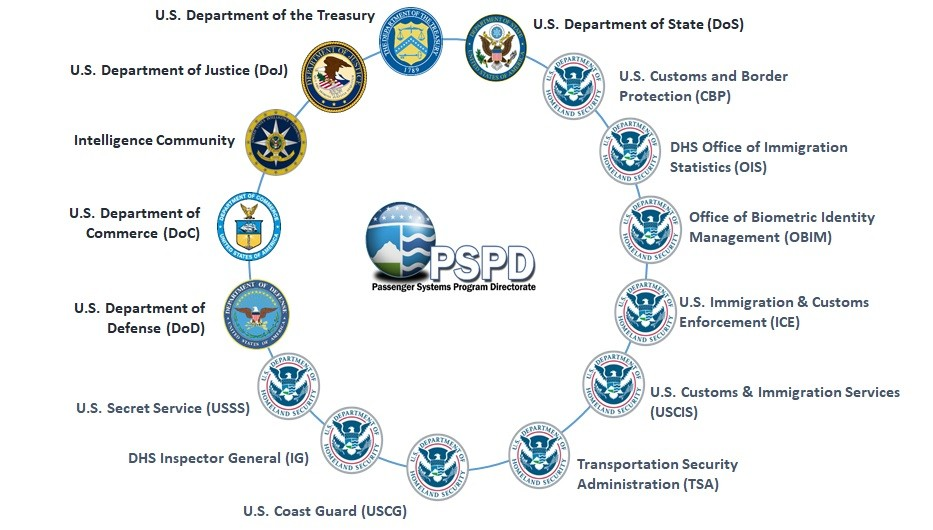 An advance notice posted last week by US Customs and Border Protection (CBP) of a forthcoming request for bids by IT contractors includes one of the most detailed inventories made public to date of the databases and interfaces used by CBP and its government and commercial partners (some of which are shown in the illustration above from the notice) for tracking, profiling, and control of travelers' and our movements.
According to the 5-year plan in the draft Request For Quotations (RFQ), CBP's Passenger Systems Program Directorate (PSPD) already outsources some of these databases to Saleforce.com, but plans to migrate them all to commercial cloud "Software-As-A-Service" contractors in 2020. According to the draft RFQ:
CBP's vision for primary inspection processing of the future is to transform the way travelers are processed…  The paradigm will evolve from biographic data focused to biometric data centric. CBP will identify travelers biometrically based on information already in CBP holdings as an alternative to having the traveler present their travel document. A biometric-based approach allows threats to be pushed-out further beyond our borders before travelers arrive to the U.S…. Integration of facial recognition technologies is intended throughout all passenger applications.
Throughout the draft RFQ, facial recognition is described as a substitute for document checks, rather than as an (optional) alternative. "GE [Global Entry] kiosks are expected to be replaced with a facial recognition solution to identify GE members," for example. There's no mention of any provision in user interfaces for opt-out from facial recognition.
Moreover, "The vision for Global Entry of the Future (GE Next Gen) is a kiosk-less solution that uses facial recognition to identify GE members…. GE-Face aligns with CBP's Biometric Entry-Exit strategy of identifying travelers with biometrics."
A "kiosk-less solution" suggests that travelers will be identified by cameras that surveil them as they walk through, with neither the need to "present" themselves at a kiosk nor any way to pass through the airport or checkpoint without being photographed and identified — and having one's presence at that place and time entered into a permanent ID-based government surveillance log.
Capturing photos of all US citizens — including those who currently opt out — so that their movements can be accurately logged is an explicit goal of the planned systems:
Simplified Arrival (SA) is a new and innovative approach that incorporates advanced facial recognition technologies into the primary inspection…. The new Simplified Arrival application will eventually replace TPAC and TPAC-Face. Simplified Arrival leverages facial recognition technologies in … the processing of arriving passengers and airline crew…. Capturing facial biometrics of all passengers adds additional security, as currently there is no biometric verification of U.S. Citizens, most Canadians, citizens of a few other countries and travelers who are exempted for other reasons such as age and class of admission. Using facial matching as the primary biometric verification modality provides a previously unavailable method to verify and facilitate travel for almost everyone, not just those travelers for whom DHS has fingerprints…. The Simplified Arrival process for air travel … Replaces document scan with facial recognition.
Not all CBP databases or systems and interfaces for populating and accessing them are included in the draft RFQ. These include the "Secure Flight"pre-crime program for profiling and tracking air travelers, which is used by both CBP and the TSA but "owned" by the TSA.
Also not mentioned in the draft RFQ is CBP's Silent Partner pre-crime program for algorithmic profiling, scoring, and targeting of travelers for more intrusive searches and surveillance, and the associated rule-sets and blacklists of targeted travelers.
Silent Partner was first mentioned publicly in DHS testimony to Congress in 2011 as "an aviation security screening program…. the details of this program are classified." Quiet Skies, a TSA program which uses a subset of the Silent Partner database to target domestic air travelers within the US, was made public by DHS whistleblowers in 2018.
More information about Silent Partner and Quiet Skies was released in Sai v. Pekoske (a pro se challenge to TSA "orders" originally filed as Sai v. Neffenger) and  Elhady v. Kable (a challenge by CAIR to DHS blacklisting originally filed as Elhady v. Piehota).
Only then did the DHS publish a years-belated Privacy Impact Assessment for Silent Partner and Quiet Skies. The PIA makes clear that these are pre-crime programs based on algorithmic profiling, not on suspicion of having committed any criminal or civil violation of law. But the profiling and scoring rules remain a secret to those against whom action is taken.