The Legal Case
Deborah Davis' case is about one thing: the right to travel.
The reason why she was charged has absolutely nothing to do with security. The guard at the Denver Federal Center wasn't checking IDs against a 'no ride' list: there is no such thing. The demands made against Deb Davis were nothing more than a compliance test, a demand that she kowtow to officialdom. And lest we forget, having to show your ID is a search without a warrant.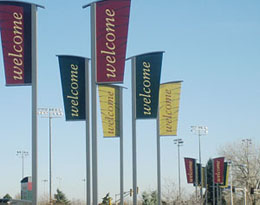 The significance of Deb's case was readily apparent to the
American Civil Liberties Union of Colorado
, who immediately arranged free legal representation. The first-rate legal team of ACLU volunteers Norman Mueller and Gail Johnson — attorneys from the prominent Colorado criminal defense firm of
Haddon, Morgan, Mueller, Jordan, Mackey & Foreman, P.C.
— are mounting a vigorous defense on Deborah Davis' behalf.
Deborah Davis responded to this compliance test in a way that would have made the Founding Fathers proud. She is being prosecuted for no reason other than being 'uppity' in the face of authority.
When Deb is arraigned in U.S. District Court on the 9th of December, she will most likely be charged with the following federal criminal misdemeanors: 41 CFR § 102-74.375 (Admission to Property) and 41 CFR § 102-74.385 (Conformity to Official Signs and Directions).
Through these charges, it appears that the Feds are claiming that people were on notice that they had to show ID. Nowhere is this evident, unless 'Public Welcome' flags are bureaucratese for 'Papers, please'. In addition, Deb wasn't even visiting the Denver Federal Center. That the public bus transits the facility isn't her fault. If the Center really is Denver's answer to Area 51, then public buses should be driving around — not through — the Center.
What's Wrong With Showing ID?